Steps to Donation
01.
Give a simple cheek swab to join the registry.
02.
In the future, you may be called as a potential match for a patient. If so, you will be asked to have a blood test.
03.
If the blood test confirms that your tissue type matches the patient, we will explain the whole process in detail. You will have a physical exam to ensure you are in good health and fit to donate.
04.
You will donate either peripheral blood stem cells or bone marrow.
05.
Your donation is transplanted in the patient. Congratulations - you have saved a life!
5 Steps
to Save
a Life
Speed Swab Kit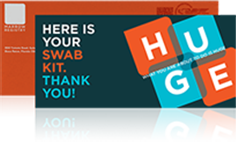 Help give someone the BIGGEST day of their life!
Order your speed swab kit today and get on the registry!
Order Your Kit