More Information:
Speed Swab Kit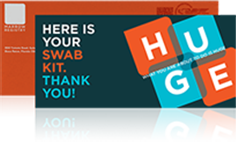 Help give someone the BIGGEST day of their life!
Order your speed swab kit today and get on the registry!
Order Your Kit
Preliminary Guidelines
Please review the medical conditions and guidelines below.
If you suffer from any one of them, you are not eligible to join the registry.
Allergies
If anaphylactic reaction to any allergen, anesthesia, or latex.
Anemia - Aplastic
If genetic disease.
Anemia - Hemolytic
If autoimmune condition.
Anemia - Other
If moderate to severe anemia requiring ongoing prescription medication.
Arthritis - Osteoarthritis
If severe.
Arthritis
Psoriatic, Reactive, Rheumatoid.
Asthma
If less than 2 years from the last severe attack requiring oral or IV steroids or emergency care. Also, if dependent on oral steroids.
Autoimmune disorders
Psoriasis, Lupus, Multiple Sclerosis, Myasthenia Gravis, Raynaud's Disease, Vitiligo
Back, Neck or Spine problems
If ongoing neck or back pain requiring medical treatment, or have herniated, bulging or slipped discs, scoliosis, or have rods/pins still present in the back or hip as a result of back surgery.
Bipolar Disorder
If currently being treated with lithium or any inpatient medical treatment within the last two years.
Brain Bleed/Injury
If multiple concussions with neurological symptoms or loss of consciousness, or other significant brain tissue injury, bleeding or surgery in the brain.
Cancer
If any history of cancer other than: cured localized basal or squamous cell skin cancer or any of the following in situ cancers -- bladder, breast, cervical or melanoma.
Chemical Dependency (Drug abuse)
If currently in treatment or continued substance abuse.
Chest Pain
If ongoing or recurring chest pain.
Chronic Obstructive Pulmonary Disease (COPD)
Diabetes
If insulin dependent or taking non-insulin injectable medications.
Heart Disease
If diagnosed with cardiomyopathy, or had a heart attack, a pacemaker, coronary artery bypass, or stents.
Hemophilia
If hemophilia A, B or C, or other factor deficiencies other than Factor XII.
Hepatitis - Viral
Hepatitis B or Hepatitis C.
High Blood Pressure
If uncontrolled or consistently above 160 for systolic or above 100 for diastolic while at rest, with or without medication.
Hip Surgery
If history of hip fracture, disease, or replacement, and if presence of pins/rods in hip or pelvic area.
HIV/AIDS
If diagnosed or had confirmed positive test.
Lyme Disease
If chronic infection or requires ongoing medical treatment.
Osteopenia or Osteoporosis
If history of fractures secondary to disease.
Psychiatric Illness
If psychotic disorder requiring anti-psychotic medications and/or intensive inpatient or outpatient treatment. Psychiatric hospitalization in the past two years.
Seizures
If untreated or if had a seizure in the past 12 months, or if uncontrolled and/or poorly controlled seizure activity.
Thalassemia Major or Minor
Thrombocytopenia (ITP / TTP)
Thyroid Disease (Hyperthyroid or Hypothyroid)
If untreated.
Transplant Recipient
Organ, bone marrow or stem cells.
Speed Swab Kit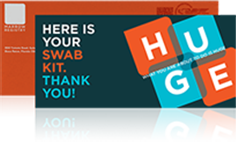 Help give someone the BIGGEST day of their life!
Order your speed swab kit today and get on the registry!
Order Your Kit