What is a transplant?
A transplant is an infusion of healthy blood stem cells into the body to replace the ones producing the disease. Transplants can be autologous (aw-TAWL-uh-gus) meaning cells come from the patients themselves, or allogeneic (AL-oh-jen-EE-ik) meaning cells donated by another person. The type of cells used are blood stem cells, the immature cells that can grow into all types of blood cells. These stem cells may be found in three places:
Within the bone marrow – a soft tissue found inside some of the bones, including large amounts in the bone of the hip and thigh – that creates stem cells and blood cells
Circulating in small numbers within the blood itself
In cord blood, the blood found inside the umbilical cord after a baby's birth
The transplant collects these stem cells and infuses them into the recipient, where they migrate on their own into the bone marrow and begin the work of creating new blood cells and immune system.
What conditions are helped by transplantation?
Every three minutes, someone is diagnosed with leukemia, lymphoma or another blood disorder such as sickle cell anemia. For many, the only hope of a cure is a bone marrow, peripheral blood stem cell, or umbilical cord blood transplant. The diagnosis and treatment can seem overwhelming, but hope for recovery exists.
Conditions that can be treated by transplant include:
Bone marrow diseases: Amegakaryocytosis/congenital thrombocytopenia, Fanconi anemia, Paroxysmal nocturnal hemoglobinuria (PNH), Pure red cell aplasia, Severe aplastic anemia. In these diseases the bone marrow does not function properly.
Familial erythrophagocythic lymphohistiocytosis and other histiocytic disorders.
Hemoglobinopathies: Beta Thalassemia Major and Sickle Cell Disease. In these diseases the red blood cells do not function properly.
Inherited Immune System Disorders: Severe combined immunodeficiency and Wiskott-Aldrich syndrome.
Inherited Metabolic Disorders: Adrenoleukodystrophy (ALD), Hurler Syndrome (MPS-IH), Krabbe Disease (GLD), and Metachromatic Leukodystrophy (MLD).
Leukemias and lymphomas: Acute Lymphoblastic Leukemia (ALL), Acute Myelogenous Leukemia (AML), Chronic Lymphocytic Leukemia (CLL), Chronic Myelogenous Leukemia (CML), Hodgkin's (HL) and Non-Hodgkin's Lymphoma (NHL), and Juvenile Myelomonocytic Leukemia.
Myelodysplastic syndromes including myeloproliferative disorders.
Multiple myeloma and plasma cell disorders.
Some other cancers and malignant diseases.
What are the first steps after diagnosis?
If you are diagnosed with a condition that is treatable with a transplant, you should schedule a consultation with a transplant center as soon as possible. Your physician will explain your treatment options and recommend the most appropriate type of transplant for you. If time permits, many patients seek out a second opinion about treatment.
Selecting a hospital
When possible, patients are encouraged to obtain more than one opinion before choosing a hospital for treatment. Larger centers have cancer research programs in clinical, basic science, and prevention (population-based investigations) that are designated as comprehensive cancer centers by the National Cancer Institute. This ensures a strong body of interactive research leading to advances in patient treatments.
Patients have many different reasons for choosing specific transplant centers. The major considerations include:
Physician and Personal Referrals
Geographic Constraints
Family Limitations
Insurance Coverage/Financial Constraints
Disease-Specific Specialization
Personal Preference
Professional Reputation
Speed Swab Kit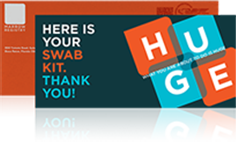 Help give someone the BIGGEST day of their life!
Order your speed swab kit today and get on the registry!
Order Your Kit