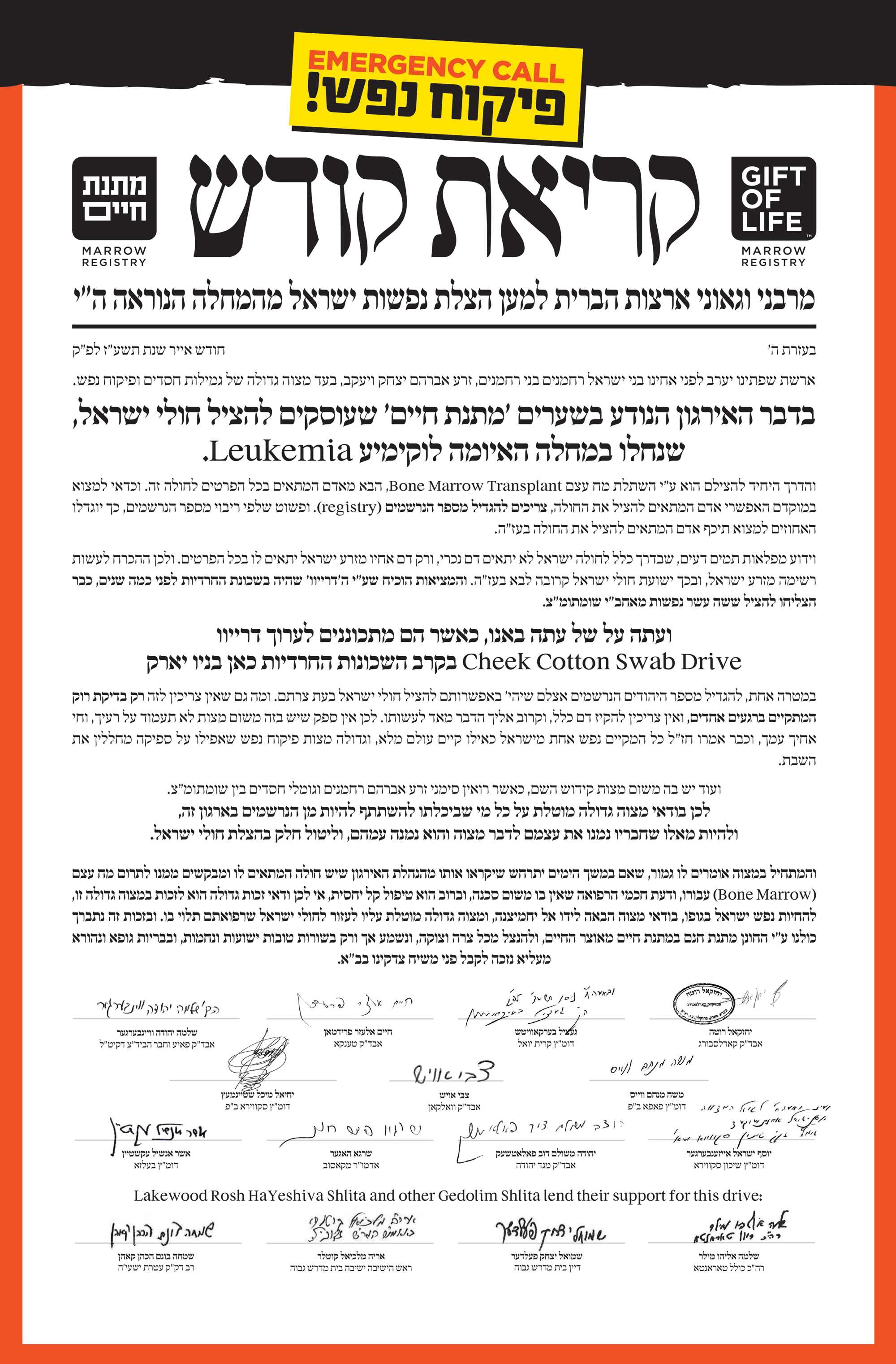 Rabbinical Endorsements
A call from American Rabbanim to save Jewish lives from blood cancer
Iyar 5777
Our Dear Brothers and Sisters,
We are taking up this plea on behalf of Matans Chaim, an organization renowned the world over for their efforts to save our Jewish brethren stricken with the dreadful disease of leukemia.
We implore you to
please take part in the eternal mitzvos of
gemilus chasadim and pikuach nefesh.
The only way to save patients with this disease is through a bone marrow transplant from a person whose blood matches that of the patient. To be able to find a match as soon as possible, it is essential to increase the number of people listed in the blood registry. The more people listed, the greater the chance to identify a match for a Jew grasping onto the last vestiges of life.
It is well known that the blood marrow of a non-Jew usually won't match the blood of a Jewish patient, as ancestry and genealogy play a strong genetic role here. That is why the registry must have blood samples from other Jews. The fact is that the drive for blood samples held in chareidi neighborhoods a few years ago succeeded in saving 16 frum, heimishe Jews.
Matnas Chaim is now planning a
Cheek Cotton Swab Drive
in chareidi neighborhoods throughout New York.
The goal is to increase the number of Jews in their registry, which will, Hashem willing, lead to more lives saved from certain death. The test takes mere moments and only requires swabbing a sample of your saliva. You are not giving actual blood.
Without a doubt, when you register your sample you fulfill the mitzvah of "Do not stand upon your brother's blood—and make your brother live with you." As Chazal already said, "Whoever sustains a Jewish life is as if he sustained an entire world." And we all know that we readily transgress Shabbos even in a case of only doubtful pikuach nefesh.
This is the case of TRUE pickuach nefesh. Is it worth 60 seconds of your time?
It is also a great kiddush Hashem when shomrei mitzvos show that they are merciful as compassionate offspring of Avraham Avinu. It is therefore a sure mitzvah for each of us to register with this organization and join the klal in saving Jewish patients.
We are also taught that the one who starts a mitzvah is encouraged to finish it. So when you are informed by the organization that there is a patient who matches you and your blood marrow can save his life, "one should not miss an opportunity to perform a mitzva", and it will be a great zechus to help the patient whose cure is dependent on you.
In this merit, may we all be blessed and saved from all tribulations and distress by the One Who gives freely the gift of life. May we hear only good news, and may we merit welcoming Moshiach in good health, speedily in our days.
Yechezkel Roth
Av Beis Din, Karlsburg
Getzel Berkowitz
Dayan and Moreh Tzedek, Kiryas Yoel
Chaim Alter Friedman
Av Beis Din, Tenka
Yosef Yisroel Eisenberger
Dayan and Moreh Tzedek, Skver
Shraga Hager
Kossover rebbe
Yechiel Michel Steinmetz
Dayan and Moreh Tzedek, Skver
Moshe Menachem Weiss
Dayan and Moreh Tzedek, Pupa
Asher Anshel Eckstein
Dayan and Moreh Tzedek, Belz